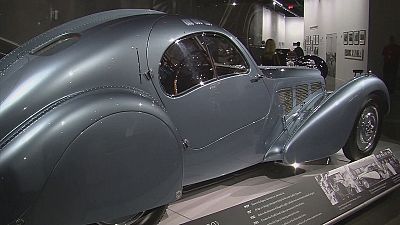 Bugatti – the name resonates with car lovers the world over, beauty, class, speed, sex-appeal, these automobiles had the lot.
Now some of the classic cars are part of one of the rarest collections in history which has gone on display in Los Angeles.
'The art of Bugatti' exhibition highlights the fascinating talents of three generations of the French-Italian family described as one of the greatest art dynasties in the world.
"It's not just cars, the cars that Ettore built, it's also the furniture and sculpture that Ettore's father Carlo built. It's also the body design that his son Jean built and it's also sculpture and art that his brother Rembrandt and his sister Lidia had something to do with.
'They were an incredibly creative family with an enormous amount of talent, fortunate enough to have been born during a time in Europe when that sort of art was appreciated and could be nourished," explained Leslie Kendall, Chief Curator, Peterson Automotive Museum.
Most of the cars were designed by the Milan born designer Ettore Bugatti, who died in 1947. He created the car company as well as designing airplanes and locomotives.
Ettore's son Jean followed his fathers footsteps, creating his masterpiece the famous 1935 Atlantic, three years before he was killed while testing a car aged just 30. How did the family create the Bugatti legacy?
"They did so through ruthless engineering and beautiful design. Whether that's a car that can go faster than any other car can go 100 years ago or whether that's a car that today is the fastest car on the road, that thread of continuity of excellence is just maintained in everything that Bugatti ever touched,"opined Thed Gushue, Editorial Director, Petrolicious.com.
The Lidia Bugatti is in the exhibition. It was made for Mohammed Reza Pahlavi, The Prince of Persia and the future Shah of Iran. It was a gift from the French government on the occasion of his first wedding.
H.R. Owen – The 'Art of Bugatti' Exhibition – Los Angeles https://t.co/cy38fhHsMR

— MW Studio (@mwstudio_uk) December 22, 2016
'The art of Bugatti' is at the world renowned Petersen Automotive Museum in Los Angeles until October.