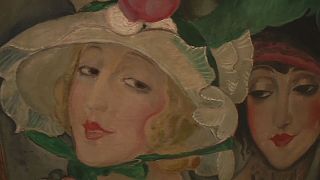 The unusual story of a love between a painter and her muse that transcends gender boundaries is also the subtitle of the current exhibition 'Gerda Wegener', presented by the Danish Art Museum Arken near Copenhagen.
Flirting girls, glamorous divas and sensual women are among Gerda Wegener's favourite subjects. And to these add the pictures of her transgender spouse, Lili Elbe born Einar Magnus Andreas Wegener, who developed her female identity as a model in Gerda's art.
"Doing the portraits of Lili, that was a mutual creative process that they did together, they created a new person or they found a true identity of a person. I think that painting Lili was the most inspiring ever to Gerda Wegener as an artist and together they investigated the codes of femininity," explained Andrea Rygg Karberg, Curator.
In 1930 Gerda Wegener supported her spouse Lili when she became one of the first in history to undergo a series of gender-modifying operations to become a woman physically and legally.
Their turbulent story was depicted in Tom Hooper's Oscar-winning film "The Danish Girl".
This is the biggest exhibit of the artist's work yet, over 75 years since her death. In Paris, Gerda won recognition and fame.
In Denmark, however, Gerda was shunned by museums and galleries due to her commercial work and sexually charged art. Today, she's seen as an Avant-Garde artist.
"She both identifies herself with the women she paints, but then she also is very much attracted to them, so there is this huge desire in everything she does. So, she was looked upon as an outsider, but we see today that she never was she was just ahead of her time," said Andrea Rygg Karberg.
'Gerda Wegener' runs at Arken Museum of Modern Art till 8 January.
Beautiful exhibition extended till Jan 8 2017 #ArkenMuseum, Ishøj, Denmark Gerda Wegener: The Lady Gaga of the 1920s https://t.co/UF5p3vbE6C

— Naya (@Naya1960) October 3, 2016
After its run at Arken, the exhibit will visit Stockholm's Millesgarden art museum 4 February – 14 May 2017.