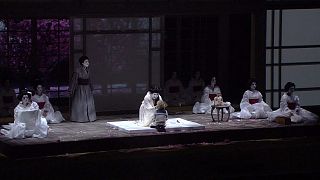 Milan's La Scala opera house has opened its new season with the original more brutal version of Puccini's "Madame Butterfly".
First performed in 1904 the original is in two not three acts and includes harsher language by the US naval officer who betrays his Japanese geisha.
The differences are said to enhance the celebrated work's dramatic and shocking finale.
Standing ovation, no fighting this time Original Madame Butterfly in Milan 112 years on ccornu</a> <a href="https://twitter.com/AFP">AFPhttps://t.co/SBmdVJojFh via YahooNews</a></p>&mdash; Angus MacKinnon (AngusM1966) December 7, 2016
Conductor Riccardo Chailly said he chose to revive Puccini's first take on the opera calling it a "duty" towards Puccini to present the masterpiece as he originally intended it to be experienced.
Unlike the 1904 production, which was greeted with hisses, the revived performance earned a 13-minute standing ovation.