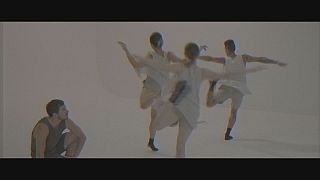 Four years after an acclaimed debut, US duo Foreign Fields are back with a new album.
The acoustic guitars of debut "Anywhere but where I am" have been backgrounded
in favour of keyboards, loops and a hypnotic plunge into what proved to be a difficult period for songwriting pair Eric Hillman and Brian Holl.
Two months later "Take Cover" emerged, and it is a muscular beast compared to its often exquisitely delicate predecessor.
"I think just the album title, 'Take Cover,' kind of sums up the whole album for me. I just dealt with some mental issues last year – depression and anxiety – for the first time. My songs, anyways, are lyrically kind of about that," says Holl.
Grief is the main thread of the twelve-track L.P, with its five stages, (denial, anger, bargaining, depression, and acceptance), also expressed in five music videos.
Each is conveyed through interpretive dance. "Tangier, "I Killed You In The Morning," "I" and "Dry." have all been produced by Gregory Horoupian and choreographed by the founder of the Indie Ballet Collaborative, and Hillman's cousin, Ariel Asch.
"We had done a few shows with dance before and the energy was always… I think we knew we wanted to find another medium to portray what we were trying to get across," says Hillman.
Hillman and Holl stay out of the videos and leave the dancing to the professionals. Foreign Fields' album, "Take Cover," is out now.