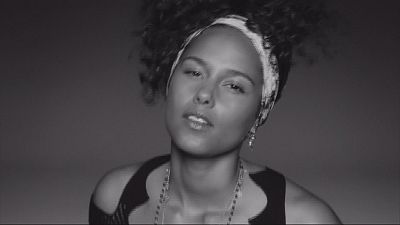 Since emerging with her 2001 Grammy Award-winning debut, 'Songs in A Minor', Alicia Keys has built her career on piano-laden ballads and intimate content.
After a four-year break, she's back is with her sixth studio album, 'Here' – somewhat of a departure when it comes both to the music and the lyrics.
"It feels brand new," she says. "It feels totally thrilling and exciting. It's like the moment I've been waiting for. I've been working on this music for quite a while and this particular album is what I feel is the most important album I've ever made, ever created, and I love it the most, you know? So I feel like people are going to get so much a sense of who I am, I have a chance to have so much conversation and dialogue."
On several of the tracks, Keys' signature piano takes second place in favour of arrangements around acoustic guitars and percussion. The artist also tackles social issues like women's rights and today's modern family refering to her own recomposed family with rapper-producer Swizz Beatz ('Blended Family').
"It's just learning and uncovering and getting to know myself, right here, right now. And you know, that's why the album is called that because here we are right now, all of us, right here. This is what it feels like and this is what it looks like according to me. And I wonder what it looks like according to you? And I have a feeling that we can relate," says Keys.
The album has been mostly warmly received by critics, who say it delivers a satisfying, enriching experience from a woman who, by respecting her audience enough to challenge it with change, engenders respect in return.
Out on November 4, 'Here' by Alicia Keys stormed to number two in the US Billboard 200 album chart, right behind Bon Jovi.