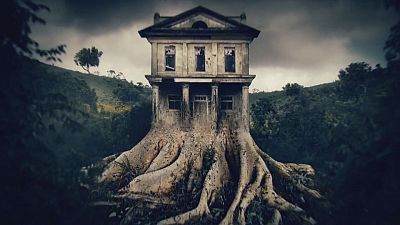 Bon Jovi are back with their new record 'This House Is Not for Sale'.
It's the band's first album since the well-publicized exit of guitarist Richie Sambora and their fallout with Mercury Records after more than 30 years.
Lead singer Jon Bon Jovi says the inspiration came from a photo montage by Jerry Uelsmann depicting an old house spawning from thick roots, which is on the album's cover.
"You know when they tell you that every picture tells a story… When I saw this house it told its story to me, and I could relate to that story. I looked at this as a very proud house with deep roots. A lot of history had lived in those four walls. But it was in disrepair. It all came to me. 'This house is not for sale,' he said. "That became the cornerstone of the record. Because now it wasn't going to be a collection of songs, it was going to a thread that was gonna take us through these last tumultuous three years."
Guitarist and co-writer Richie Sambora had been Jon Bon Jovi's partner for 30 years. The two were inducted into the Songwriters Hall of Fame in 2009. Taking over from Sambora, guitarist Phil X found he had big shoes to fill.
"The biggest challenge was the first couple of shows when you saw the 'Where's Richie?' signs in the audience," he says. "But then the 'Phil X' signs started to pop up. Musically, as a guitar player, it's one of those things where I'm not like Richie, but I'm not really me. I'm this guy in the middle that shows up and delivers and expresses the guitar parts and the vocal parts and… But it's one of those things, Richie, you gotta tip your hat to his ability, his song-writing, all that stuff."
Proving their worth as one of the biggest and most successful acts still recording music today, Bon Jovi debuted at the number one spot on the U.S. Billboard 200 with their new album.
'This House Is Not For Sale' is out now. The band sets off on a tour of the US in February.