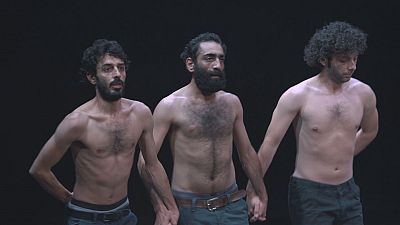 How does a body react when it is forced or prevented from moving?
With his show 'Displacement', Syrian choreographer Mithkal Alzghair offers a reflection on his countrymen's flight from civil war and the uncertainty of life in exile.
His work is characterized by conflicting movements and feelings: the hope of fleeing, the uneasiness of knowing that a return is impossible. Alzghair fled to France six years ago to avoid military service, but his family is still in Syria. After training at the Higher Institute of Dramatic Arts in Damascus, he resumed his training at the Centre Chorégraphique National in Montpellier.
Much of his inspiration, he says comes from Syrian folk dance: "I worked on a traditional Syrian dance, on the context of displacement. On this question of leaving territory, of rebuilding a new identity."
Deconstructing Syrian traditional dance, Alzghair highlights the paradox of a deeply rooted culture forced to experience displacement.
The show is also an investigation into the folklore of his homeland: "It (the choreography) was based, for me, on two movements. The first movement comes basically from a dance called Depke, which is like a dance with the feet. The second movement I worked on is a hand movement. We dance using our arms. It can be like inviting people to come, or trying to stop violence, or it can be something else," he explains.
Mithkal Alzghair's 'Displacement' is currently touring Europe.