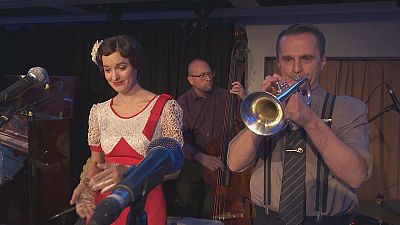 Professional and amateur dancers from over 40 countries made their way to Budapest to participate in the 10th Lindy Shock University, a swing dance event.
Until the end of the '90s it was mainly a musical genre, but since then its dance has been rediscovered.
Katja Zavrsnik from Slovenia comes to the Hungarian capital every year for the gathering.
Katja Zavrsnik, dancer:
"In this dance we meet a lot of new people, so that's exciting. But it's also exciting to have certain friends that you can meet in certain events, and then of course, to dance with those people."
Lindy Hop, based on jazz, tap and the Charleston, was created in New York in the 1920s and evolved with jazz music and the swing era of the late '30s and early '40s.
Marcell Bendik, founder and organizer of Lindy Shock:
"Until the end of the '90s it was mainly a musical genre, but since then its dance has been rediscovered. From simply the conservation of a culture it transformed to a live style. Many young people got involved, it's very popular in Europe and I hope it becomes so here.
Besides the music and movements, clothes and shoes are important in evoking the atmosphere of the era, and it's exciting for the dancers react to the improvisations of the live musicians.
Shivani, participant from South Africa:
"This dance I first saw when I went to a jazz club in London. I saw some people dancing and looked lots of fun. The music was good, the culture of the dancing is really nice, because people dress up, it's a nice escapism, it's good fun."
Brazilian-born Felipe Braga teaches Lindy Hop in Budapest with his American partner, Laura.
Felipe Braga, dance teacher:
"It attracts a lot of people, who are a little mathematic, so there's a lot of scientists in this community. I think it's a way they find to express themselves, because it's a very free dance."
At night, dancers take to the stage to showcase their talents.
A jury composed of dance teachers proclaimed the performance of a Russian couple as the best.
Lindy Hop was named after US aviator Charles Lindbergh's flight to Paris in 1927, when a newspaper headline read: "Lindy Hops the Atlantic".