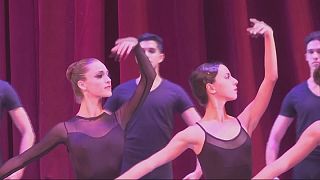 Seven U.S. companies, including the prestigious Martha Graham Dance Company, are in the Cuban capital for the 25th Havana International Ballet Festival.
The gathering is the brainchild of 96 year-old former prima ballerina and Cuban National Ballet founder Alicia Alonso: "To me it means a very important part of my life. It's one of my dreams and it's happening, you can imagine how I feel now that it's a reality."
Dancers from 16 countries are participating in the bi-annual event that is being held at three of Havana's theaters including the Mella, Alicia Alonso Gran Teatro and the Nacional.
Ballet dancer Madison Endrich says the festival transcends political differences: "No matter what your political views are, dance is universal, and so I think everyone can appreciate ballet."
Cuban Javier Torres joined Britain's Northern Ballet in 2010 as Premier Dancer but is very happy to be back in Cuba for the festival.
"This festival represents a lot for so many people around the world, to the people who like ballet, who like dance. But, if you are Cuban, it represents much more, and for me, I'm just at home."
Cuba's National Ballet School (ENB), which claims to be the world's largest with 3,000 students, has long trained many foreign dancers.
But no American had joined its full-time program during the half-century long conflict between Cuba and United States until Michigan teenager Catherine Conley signed up.
She hopes to gain an edge back home by learning the powerful Cuban style during her one-year stay: "Being here in Cuba – not just for dance – is a really eye-opening experience. I get to take in the culture while doing this every day at the same time and improving."
Cuba is renowned for its rigorous, state-subsidised ballet education and has produced an enormous number of dance stars, such as Carlos Acosta and José Manuel Carreño, for a small island of 11 million inhabitants.