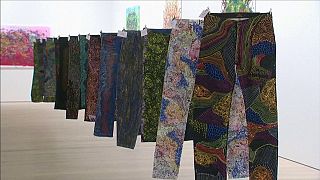 An exhibition of jeans hand painted by American artist Johny Dar is at the Saatchi Gallery in London.
#art We went to see Jeans for Refugees at Saatchi Gallery: a fantastic cause ★★★★ https://t.co/cUdl1LX2JHJohnyDar</a> <a href="https://twitter.com/saatchi_gallery">saatchi_gallerypic.twitter.com/UstQyx6WX3

— The Upcoming (@The_Upcoming) 25 October 2016
The jeans, donated by such luminaries as Elle Macpherson and Victoria Beckham and Kate Moss are part of the Jeans for Refugees project.
The painted denim is up for sale with the monies raised going to help those in The Jungle in Calais where Dar has been working alongside aid workers.
Celebrity jeans get makeovers to raise money for refugees https://t.co/gdfDjqr4cjpic.twitter.com/nRFkNttJan

— Reuters Brasil (@ReutersBrazil) 24 October 2016
Kashi Money spoke on behalf of the artist:"He watched the refugee crisis unfold, very silently but very much brewing something, you know, wanting to act. But he didn't really know how, he didn't know what to do exactly. So when finally last year he had this click I guess, where he just realised 'Jeans for refugees' this is something I can do, you know. I can paint and I'm sure there's celebrities that will give their jeans so let's make it happen."
Celebrity designed jeans auctioned for refugees#Jeansforrefugees#johnydar#migrantcrisishttps://t.co/G2IaKhQmkxpic.twitter.com/YtC78TeDdB

— The Peninsula (@PeninsulaQatar) 24 October 2016
Some of the jeans have fetched prices as high as €6.500 and will go to the International Rescue Committee based in New York.
Sanj Srikanthan is from the organisation: "I think people recognise that they're not just donating for an amazing product that Johny has worked on but also the cause the money is going for. And the generosity of celebrities, well over a hundred who have donated the jeans, is really remarkable and shows just the level of support that people feel for refugees."
Sudanese refugee Gamar spent four months in the migrant camp in Calais before travelling to the UK in the back of a freezer lorry, he is worried for the future of the refugees in Calais:"The migrants in Calais seek a secure and safe life, and now they are moving where? To nowhere. They know nothing about it. May God help them."
'Jeans for Refugees' is a global initiative and the show runs until the end of October.