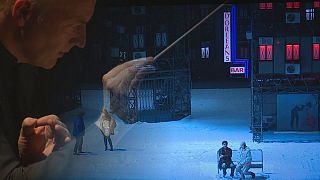 Among the masterpieces in the operatic repertoire, "Bohème" by Giacomo Puccini was first put on 120 years ago in Turin.
To celebrate the anniversary, a new production with a contemporary staging has been put on; the orchestra of Teatro Regio, in great shape, is superbly conducted by Gianandrea Noseda.
Set in a nondescript urban landscape, this production tells us how youth, vital energy, and passionate love, are the same as those lived by Nineteenth century bohemians.
Italian conductor Gianandrea Noseda spoke to Euronews.
"Bohème tells us about young people and their hopes, their will to change things, to go against the rules… still, with Mimì's death, which is unexpected, it's as if all these feelings and emotions were abruptly stopped; I'm not sure whether after Mimì's death these youngsters will be as carefree as they were before. There's disillusionment, and not much hope, in Bohème."
"Bohème is so sophisticated in every single detail of its score, and to such an extent that it could be considered a Twentieth Century opera. Such precision was already in Mahler, and Puccini, who embodies his own time so well, brings it to its extreme consequences… there are certain measures in Bohème with so many notations in terms of tempo or dynamic that it becomes a rather difficult opera, definitely one that beckons to the next century."
'A very not normal life': a profile of Gianandrea Noseda, the NSO's next music director https://t.co/0BmpA3Sovy

— Anne Midgette (@classicalbeat) January 8, 2016
"Of Turin I like the fact that, however discreetly, it is still a 'royal' city… after all, it was the first capital of unified Italy! So, there's something aristocratic about it, but a type of aristocracy that is accessible to everyone: you can enjoy its cafés, its restaurants… there's also an enjoyment in doing things well."
"Something in our profession as conductors pushes us to the limits of understanding… we really want to find out the truth in the piece we work on, whilst being aware, though, that we'll never achieve that. It is also true that a certain way to interpret a piece is fine at a time in one's life, and then it's not right anymore because we have changed… Conducting pushes you to go deeper and deeper into a piece despite the awareness that composers are so much greater than we are."
---
Watch online
This production is being streamed free of charged until April 2017 on The Opera Platform the web platform devoted to opera and promoted by the European Commission.
---
A short video talking about La Boheme after 120 years from its Premiere at the TeatroRegio</a> Torino! <a href="https://t.co/YDm3YYxqlZ">https://t.co/YDm3YYxqlZ</a></p>&mdash; Gianandrea Noseda (NosedaG) October 21, 2016