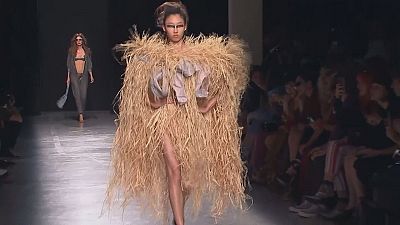 Husband-and-wife team Vivienne Westwood and Andreas Kronthaler presented a Spring/Summer collection full of oversized straw silhouettes, asymmetrical pieces, and even a nude custom print at their Paris Fashion Week show.
The collection saw creative director Kronthaler firmly stepping out of his wife's shadow while hailing the influence women have had on his work. The pair have collaborated for over 25 years.
Joining the see-now-buy-now trend, the duo offered a capsule collection of around 20 pieces from their unisex collection for immediate purchase after the show.
Valentino's Spring/Summer collection for women swished onto the stage in a swirl of sultry chiffon shades.
Frills, florals and full-length were the order of the day as models hit the catwalk wearing high-necked, long-sleeved frocks in warm pinks and yellows. Models wore natural hair and make-up, comfortable flat shoes and mini-credit card and lipstick handbags.
Lebanese fashion designer Elie Saab created a glamorous disco setting at the Tuileries Garden for his 'Standing on Stardust' collection.
Shimmering gowns, exuberant sequin detailing, and liquid lamé pieces evoked the golden age of disco in a mix of colour, texture and tailoring. The ultra-glam collection also featured Saab's signature evening gowns that combined tulle, lurex, leather and silk.
Paris Fashion Week – which closes the season after New York, London and Milan – runs until October 5.