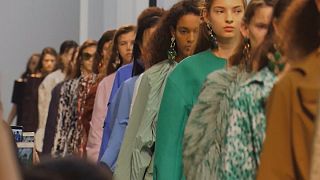 Sibling designers Dean and Dan Caten presented their new Dsquared2 spring/summer 2017 collection at Milan Fashion Week.
The party collection featured '80s inspired looks mixed with punk-influenced fabrics and details.
Puffed shoulders added femininity to military style jackets, while mini skirts were finished with silk ruffles.
.Dsquared2</a> is going co-ed: <a href="https://t.co/R6TlesJITf">https://t.co/R6TlesJITf</a> <a href="https://t.co/IukcKG9r1i">pic.twitter.com/IukcKG9r1i</a></p>&mdash; Fashionista.com (Fashionista_com) September 26, 2016
Oversized, low slung denim jeans were acid washed and ripped, but made glamorous by a coating of glossy transparent sequins.
Animal print, embroidery, beading and lace ribbons added texture and fun to fabrics, which included silk and chiffon.
Missoni's metallic and layered knit looks wrapped up the Milan catwalks showcasing the spring/summer 2017 collections by fashion's best known brands.
Angela Missoni designed mid-length ribbed dresses over trousers, revealing bikinis and multicoloured bandeau tops layered with scarves and cardigans to fill women's wardrobes with colour next year.
The intricate iconic Missoni</a> knits on parade at <a href="https://twitter.com/hashtag/MFW?src=hash">#MFW</a> <a href="https://twitter.com/hashtag/bnyfieldnotes?src=hash">#bnyfieldnotes</a> <a href="https://t.co/FFaKLac7f4">pic.twitter.com/FFaKLac7f4</a></p>&mdash; Barneys New York (BarneysNY) September 25, 2016
The palettes used by Missoni were bolder than usual, with splashes of vibrant shades, enhanced with metallic shimmers of golden lame.
Marni's collection for next spring and summer appeared to be of such a complex construction that it would seem to require a dress maid, or at least written instructions, perhaps even a video.
Khaki suiting marni</a> <a href="https://twitter.com/hashtag/MFW?src=hash">#MFW</a> <a href="https://t.co/EUKwPlCHjt">pic.twitter.com/EUKwPlCHjt</a></p>&mdash; Vanessa Friedman (VVFriedman) September 25, 2016
Accordion pleated dresses wrapped around along the bias, trailing ribbons or rope drawstrings. Tops with manifold folds and dragging cuffs fastened at the waist with a metallic buckle, and tuck into drawstring skirts. High-neck tunics with oversized sleeves and big cargo pockets were wrapped in wide kimono belts. Knitwear was gathered upward, obscuring the practicalities of how to get in or out.
Creative director Consuelo Castiglione played with proportions. Cargo pockets billowed like balloons over jumpsuits and coats. Sleeves were oversized, ending in bell shapes or big open cuffs. On skirts, the arched hemline of previous seasons was revisited. Seen from behind, a peplum layered evenly with a jacket hemline and skirt for a sculptural effect.
For evening, a black dress was constructed out of panels stitched together loosely to allow skin to peek through, creating the effect of an ultra-modernist wedding cake.
Colours are mostly basics, from white to beige, to black, with flashes of emerald green, dusty pink and hues of blue. Marni prints for the season include florals and gentle geometrics. Big baubles and pointy shoes finish the looks.
After Milan, it's the turn of Paris to present the new collections.