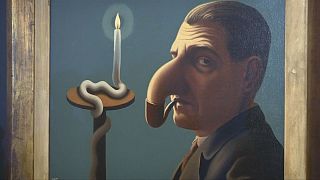 The Pompidou Centre in Paris presents an new exhibition of the work of Belgian surrealist René Magritte.
The show explores Magritte's
interest in philosophy and the relationship between words and images.
'The Treachery of Images,' one of his most famous works, attempts to trick the audience, the phrase 'This is not a pipe' under a painting of a pipe states the obvious, but the obvious is in disguise.
It is not a pipe it is a painting.
This painting by René Magritte changed the world of arts forever!
Video: https://t.co/gLhMN4FpHW#Art#artspic.twitter.com/I4POM47BiK

— Check123

ARTS

(@Check123ARTS) September 24, 2016
Didier Ottinger is the curator of the show:"The relationship Magritte had with the philosophers and with philosophy was not in any way to make him a disciple. Magritte wanted to cross swords, meaning engage in a theoretical combat with the philosophers, to prove to them that images can express thoughts in the same way that words can."
#RenéMagritte depicts himself seeing and knowing the future in 'La Clairvoyance'. Is he seeing the future of art? pic.twitter.com/yGKwd8eioW

— Today Is Art Day (@todayisartday) September 21, 2016
Aside from words juxtaposed with images, certain objects recur in Magritte's body of work- the candle or fire, the shadow, the silhouette, the body in pieces. He uses such imagery, normally seen as representations of desire, to instead question art's ability to capture reality.
Didier Ottinger continues:
" For decades, Magritte worked as a poster designer. And when you make posters, you make images that can be viewed by, say 200 people who pass by on the highway, or from a long distance, in the street. This gives an expertise, or a technique, which he applied to these paintings. And this continues to this day, in the eyes of the audience, these images are very powerful, very strong."
The exhibition, featuring more than 100 paintings, drawing and documents, runs from until January 23 2017.