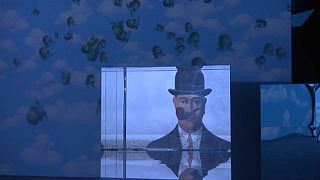 Step inside the surreal world of René Magritte. At this exhibition in Milan, you won't see any of his original paintings, just his work reimagined for the 21st Century.
Through light, video projection and Virtual Reality technology, art lovers gain a new perspective on the works of the famed Belgian artist.
Stefano Fake, Director at The Fake Factory says, "Through video projections, light can recreate a world along with music and storytelling which bring the visitor closer to an experience they would have at the movies or in an immersive theatre compared to a traditional exhibition."
Images and videos from 160 pieces by Magritte have been treated with digital technology. Visitors can explore the space and see the art from many points of view, reflected on different items and textures. The exhibition "Inside Magritte" can be seen at the Fabbrica del Vapore in Milan, Italy until the 10 February.