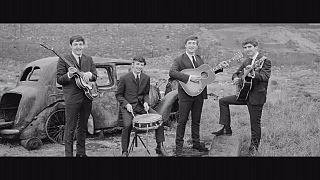 Film director Ron Howard brings the Beatles back to life in a new documentary.
The film features exclusive footage of the band during its touring years and the rise of Beatlemania.
"I became really interested in the story of that journey. And I thought it was kind of a brilliant idea to look just at the touring years because it made it, sort of, an adventure story, sort of a survival story – when you look at how much they grew as artists and as individuals and everything that they coped with, through Beatlemania, and the craziness that was going on in the world outside them," Howard said.
The film includes interviews with the two surviving members McCartney and Ringo Starr; archive material with Harrison and Lennon, and other surprises.
The movie focuses on the years The Beatles played live, from 1962 to 1966.
During that period, they performed more than 800 times in 15 different countries. Until the fans' hysteria made touring impossible.
"We wanted to be famous. We wanted to do well," said surviving band member Paul McCarney.
"So you know we were doing what we really wanted to achieve and it was getting better and better. But this funny stuff of like, all the screaming and the craziness was coming in at the same time as all the success, which is what we wanted, so we couldn't complain. But it got out of hand and the story is that, in the end, it kind of forced us off the road so we had to come back to this studio and make 'Sergeant Pepper's Lonely Hearts Club Band.'"
The 1967 album was immediately a huge commercial and critical success.
That period also brought the band closer together. Still today, McCartney and drummer Ringo Starr say the Beatles were like brothers, and left a considerable cultural legacy.
"The great thing about it for me, is that the music keeps hitting the next generation, they listen to the music. It's not us with the mop tops or the boots, it's the music itself," Starr said.
"The Beatles: Eight Days a Week -The Touring Years" is out now – and so is the audio companion to the film, "The Beatles: Live At The Hollywood Bowl."