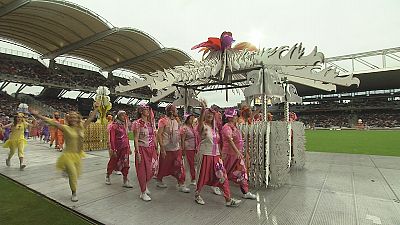 The French city of Lyon has been celebrating the 17th edition of its dance biennial with the traditional opening parade.
However, amid security concerns following recent terrorist attacks in France, the event was not held in the city centre as usual, but inside Lyon's Gerland Stadium.
Despite an uninvited guest – the rain – which made its first appearance in 18 years, the mood was upbeat and the costumes more colourful than ever.
"Well obviously, the weather is bad, it's raining. But the dancers are really keen on taking part in the parade, and the public is nice and dry up there in the stands, so we're quite lucky really, and what matters is that the parade is taking place," said the biennial's artistic director, Dominique Hervieu.
Compared to the average 300,000 people who normally line the streets of Lyon to watch the parade, the Gerland Stadium only offers a maximum of 40,000 seats. But those who came were delighted.
"It was really magical, the atmosphere was great, we loved it," said one enthusiastic musician.
'Ensemble' is the theme of this year's edition which translates as 'Together', and the parade's 4,500 dancers and musicians certainly lived up to it.
"Our work focuses on cultural diversity, so it's a journey between traditional and contemporary dance," said Kadia Faraux of the Lyon-based Compagnie Kadia Faraux.
"From East to West. It's all about living together. As you can see, it's a trans-generational parade, with both youngsters and older people, and we all represent the same values," said the troupe's Maissa Barouche.
"So we're all together for real, it's a very strong human experience that we are sharing with the public," concluded Faraux.
According to the biennial's founder, Guy Darmet, the show has lost nothing of its vitality: "It's the same energy, the same passion, the same will and pleasure to dance, plus it's more comfortable for the public, that wasn't the case in previous editions, so I think it's the start of a new adventure, and, after two decades, we can look at the future differently, that's a sign of optimism and I like that."
To wrap up festivities, the public was invited to come and take part in the show… tous ensemble!
The Biennale de la Danse in Lyon runs until September 30th.