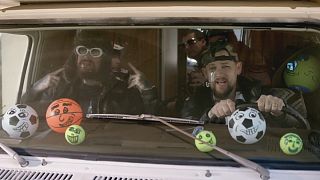 Good Charlotte, the American band and brainchild of twin brothers Joel and Benji Madden, are back on the road to promote the 'Youth Authority' collection.
GoodCharlotte</a> Sept 6th at the Corner Bar inside <a href="https://twitter.com/PeabodyMemphis">PeabodyMemphis. Listen to Win your way in! pic.twitter.com/8kfxbj6rXj

— I96 (@i96memphis) September 2, 2016
Their last album 'Cardiology' was released six years ago and after a break to recharge Good Charlotte are on the road again.
Benji explained why they returned:
"Really when we took the break, Joel was saying that he wasn't sure if he wanted to do it again and if he did, it would be because he had something to say, something that he had to get off his chest that he could only do with Good Charlotte, so it was always about a new record. It was never about doing a nostalgia or playing an old record."
LIVE: GoodCharlotte</a> make their triumphant return at London&#39;s O2 Forum. <a href="https://t.co/jDkYodathT">https://t.co/jDkYodathT</a> <a href="https://t.co/bk32WFDJ9v">pic.twitter.com/bk32WFDJ9v</a></p>&mdash; Punktastic (punktastic) August 31, 2016
While Good Charlotte has been in moth balls the twins have worked with 5 Seconds of Summer and were motivated to get back and record adds Benji:"The key is just getting that, when you get that spark or that little bit of energy, you've got to run with it because then you'll get a song. And some days if you try to show up and write a song it doesn't come and you just have to go, 'I'll try again tomorrow' but when you get that spark and you have that idea you've got to get up out of bed and write the song," said Benji.
Good Charlotte are currently on tour in the US.