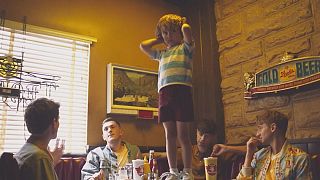 British band Glass Animals have released 'Youth' the second single from their latest album 'How to be a Human Being.'
The new GlassAnimals</a> album is out today - and they&#39;ll be here on Monday with a live set! <a href="https://twitter.com/hashtag/HowToBeAHumanBeing?src=hash">#HowToBeAHumanBeing</a> <a href="https://t.co/rDeQJPewmH">pic.twitter.com/rDeQJPewmH</a></p>&mdash; MBE (mbeKCRW) August 26, 2016
The collection was inspired by conversations the band had while on the road.
The group's Dave Bayley explains:
"I have a really bad memory and I really want to remember, we were meeting all these people and they were sharing all these stories and I wanted to remember them. So I secretly, on my phone I just hit record. And then you listen back to them all at once and you start to realize what people talk about, the way that they tell stories.''
The idea was to create an album of songs as vignettes, gleaned from conversations recorded with people he met on tour, at parties, in taxis.
.GlassAnimals</a> are in La La Land - read the DIY interview: <a href="https://t.co/gGjkAEoNmF">https://t.co/gGjkAEoNmF</a> <a href="https://t.co/mat7zXtPHv">pic.twitter.com/mat7zXtPHv</a></p>&mdash; DIY (diymagazine) August 18, 2016
Joe Seaward said the album was more or less intact after 10 days:
"Dave disappeared and wrote the beginnings of all these songs and then all of these characters were spewing out of him, what they all wore, what their favorite shoes were, what they ate for breakfast, were they married? What colour bedsheets do they have? All of that stuff – everything, like minute detail. And as that was happening I think it kind of fed into itself, into this loop."
Glass Animals are back on the road until November touring Europe, Australia and the US.