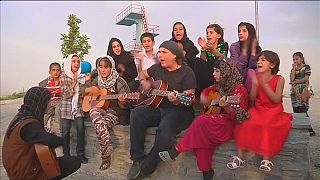 Climbing to the top of Kabul Hill, strumming their acoustic guitars and singing along with their teacher has become the favourite moment of the day for the girls at the Miraculous Love Kids school in the Afghan capital Kabul.
The music school, founded by American guitarist Lanny Cordola, has become a sanctuary for fifty children, mostly girls from poor families, it allows them to escape from the poverty and violence of the war shattered capital.
Guitar School 4 street children in Afghan. So inspiring. Lanny Cordola what a special soul. https://t.co/xIAmwmEcsqpic.twitter.com/vFRYfxrcTf

— Shellingtonboot (@Shellymxx) July 21, 2016
Shiba, a fourteen-year-old student, dreams of a better time: "I wish for peace and stability in Afghanistan and I also urge the people to encourage girls to learn guitar so they can build a better future for the country.''
In a land which restricts opportunities for women the music school is a beacon of liberalism.
drninaansary</a> <a href="https://twitter.com/a_siab">a_siabfparvaneh</a> <a href="https://twitter.com/idavar">idavar TY for sharing Lanny's story. Much appreciation! https://t.co/dsIdk44ii3pic.twitter.com/iQYpAvxJx2

— Bita Milanian (@BitaMilanian) July 31, 2016
The LA musician decided to open the school after hearing about the deaths of two sisters in a suicide bomb attack four years ago.
"Everybody in Afghanistan will pick up a guitar and sing and make music. You know, when people are singing and making music, they are not hurting each other. So it's you know music is a healing force, it's a peace making force, it's a way to communicate things without even having to know languages, it's sort of a transcendent way of communication," says Cordola.
Lanny's inspiring work has provided 12-year-old Musal with an objective:"Lanny encouraged me and taught me how to play guitar and then I started loving guitar. Now my ambition is to become a good guitarist and a guitar teacher in the future."