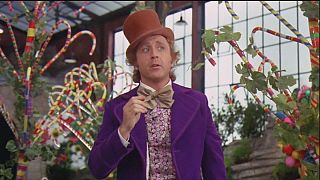 The mad haired, wild eyed comic actor, Gene Wilder has died at the age of 83.
The star of such classics as 'Willy Wonka and the Chocolate Factory,'Young Frankenstein,' and 'Blazing Saddles;' passed away at his home in Stamford, Connecticut, from complications related to Alzheimer's disease.
Wilder was born Jerome Silberman on June 11, 1933 in Milwaukee, Wisconsin, the son of Jeanne Baer and William J. Siberman a Russian Jewish immigrant.
Wilder's interest comedy came about when a doctor treating his mother for rheumatic fever asked the young boy to 'try and make her laugh.'
From then Wilder went on to study drama including a stint at the Bristol Old Vic Theatre School in Bristol, England.
Wilder first met his soon to be collaborator Mel Brookes in 1963 and the pair went on the make the classic comedy films 'The Producers,' 'Blazing Saddles' and "Young Frankenstein.'
On social media Brookes played tribute to 'to his friend Jim': "One of the truly great talents of our time, he blessed every film we did with his magic and he blessed me with his friendship."
One of his most famous roles came when he took the lead in an adaptation of Roald Dahl's 'Charlie and the Chocolate Factory,' renamed for the screen, 'Willy Wonka and the Chocolate Factory.'
In latter years Wilder turned to writing, a memoir, 'Kiss Me Like a Stranger: My Search for Love and Art', an account of his life covering everything from his childhood up to his wife's Radner's death. Two years later, in March 2007, Wilder released his first novel, 'My French Whore,' set during World War I.His second novel, 'The Woman Who Wouldn't,' was published in March 2008.
In 2010, Wilder released a collection of stories called 'What Is This Thing Called Love?' His third novel, 'Something to Remember You By: A Perilous Romance,' was released in April 2013.
In an interview in 2008 Wilder was asked if he had retired from acting, he answered
"I don't like show business, I realised, I like show, but I don't like the business."