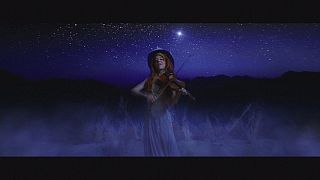 Life's constant lessons in love, loss and self are just some of the elements found in violinist Lindsey Stirling's new album, "Brave Enough."
Overcoming adversity is the backdrop for the album, after a year that included the death of her best friend Jason "Gavi" Gaviati, and a cancer diagnosis for her father.
One track, "The Arena", was the first song Stirling wrote after Gaviati lost his battle with cancer in 2015. The 29-year-old also penned "Gavi's Song" to honor their relationship.
"I couldn't write about these things until I dealt with them. My music at first was just really sad and depressing as I started to go back and write again. And I was like, this is not helping me at all, to write in this way. And so I started dealing with the emotions, I went home, I spent time with my family, I did some therapy. And then it became a very therapeutic experience to write about these emotions," says Stirling.
Since 2007, Stirling has been making a name for herself by using social media. In 2012 the single, "Crystallize," from her debut album earned her eighth place among the top-viewed videos on YouTube. Her second offering, "Shatter Me" debuted at #2 on Billboard's Top 200 Chart, and Stirling's YouTube channel has over 8 million subscribers, with over one billion views.
Even with measurable success, the musician said she still places pressure on herself and making her third album was difficult.
"Actually I feel that every album is actually harder. And I don't know if it's just maybe the pressure building up a little bit. Every album I've had a much bigger audience when I released each album. But also kind of when I wrote my first album I was just experimenting, I was just trying new things, expressing myself and kind of doing what came very naturally. Then as you progress you have to think, ok, I've already done that, what can I do to make it sound new and fresh. So you kind of have to leave your go-tos and your natural tendencies behind because you've already done that," she says.
Playing the violin has allowed Stirling to merge all her passions, which include film making, art and dance.
"Brave Enough" was released on August 19, and includes "Something Wild" from the hit movie "Pete's Dragon".