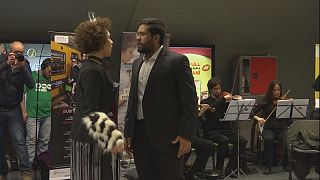 Buenos Aires' subway commuters broke their daily routine in mid-August when an opera company took to Las Heras station's main hall to perform an 18th century piece.
The Opera Periférica group performed "La Serva Padrona" written by Giovanni Battista Pergolesi in 1733 and considered the first operatic comedy masterpiece in history.
For the adaptation, director Pablo Foladori said the subway rehearsal will help his ambitious goal of turning opera into a daily part of people's lives.
"We want opera to become a common subject. We want it to flow and move and to be an everyday topic of conversation. That's why we are trying to rehearse at the subway," he enthuses.
Curious commuters stopped to listen to the vibrant voices of soprano Julieta Schena and baritone Alfredo Martinez, who were portraying the piece's main characters.
Julieta Schena explains the reaction of the audience:
"First the surprise and then a good welcome. Commuters stop, listen, and get hooked by what's going on. Even though it might not be totally understood because there are no subtitles here, like in a theatre," she says.
The show is part of the city's initiative to forge a closer relationship between citizens and art, an initiative that has received a positive reaction from the public.
"This is the first time I've seen this. Fantastic! I find music wonderful in any place," said commuter Teresa.
According the Buenos Aires subway company, almost one million commuters use the subway during weekdays.