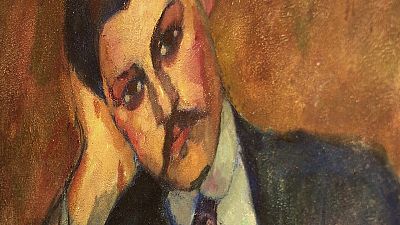 The Hungarian National Gallery is hosting a unique retrospective of Italian painter and sculptor Amedeo Modigliani (1884–1920) who is known for portraits and nudes in a modern style characterized by elongated faces and figures.
The exhibition features more than 80 artworks on loan from museums and private collections across the globe.
The Portrait of Jean Alexandre
Portrait of Jean Alexandre https://t.co/7AcLRVS387#expressionism#modiglianipic.twitter.com/7uFqcCKpRI

— Amedeo Modigliani (@artmodigliani) June 16, 2016
Among them is the renowned portrait of Jean Alexandre (1909). Without falling into the trap of concentrating on price rather than artistic value, the piece was sold in 2015 by Christie's New York for $7,557,000.
The exhibition's Curator Anna Zsofia Kovacs told reporters:
"On the back of the portrait we can see a nude. Modigliani painted the nude figure first, but he was not satisfied with it, so he didn't complete it. As he was not in any way rich, he used the same canvas to paint the portrait of Jean Alexandre when his brother ordered the painting."
Tête
masdearte</a> Amedeo <a href="https://twitter.com/hashtag/Modigliani?src=hash">#Modigliani</a> Tête, 1911-12 [unknown photographer] Have a nice day! <a href="https://t.co/Lwo8AsYYEo">pic.twitter.com/Lwo8AsYYEo</a></p>&mdash; Selected Photos (SelectedPhotos) July 12, 2016
Tête (1910-12) fetched $64.6 million in 2010, and is the third most expensive sculpture ever sold.
The legend goes that when Modigliani was in Livorno, he was unhappy with his statues, and threw them into the river in a fit of rage. In the 1980s an Art Historian set out to find them and did indeed discover some in a river. It later turned out that the statues were in fact made by local students as a prank to dupe the academic. Still, the legend lives on.
The Temple to Humanity
Anna Zsofia Kovacs went on to illustrate another phase of Modiglian'i's work saying that:
"Between 1909-14 Modigliani wanted to build the Temple to Humanity. It was a very utopian and avant-garde idea. Other artists like Jacob Epstein and Constantin Brâncuși dreamed up similar temples. Modigliani topped the columns of his temple with decorative sculptures of stone heads."
The Reclining Nude with Loose Hair
Modigliani's most detailed masterpiece from his important (1916-17) nude series is on loan from the Osaka City Museum in Japan. This is only the 3rd time ever that the The Reclining Nude with Loose Hair has been exhibited in Europe.
The Modigliani exhibition is open until 2 October 2016 at the Hungarian National Gallery.