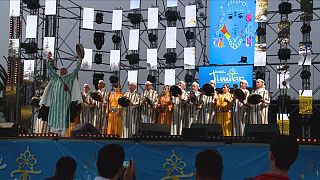 The 13th Timitar Festival, held earlier this month in Morocco's coastal city Agadir, was a tribute to Berber music as well as to cultural tolerance in the way it showcased a fusion of different musical genres.
The music of the Berbers, a people who live in scattered communities across North Africa, has inspired a handful of artists from world music who've come to be inspired by its ritualistic rhythms.
The Berber language was only recently recognized in Morocco. "Timitar" means "signs" in Berber and this festival wanted to send out a message of tolerance in a fragile region struggling to come to terms with Islamic extremism.
At a time when acts of terror are throwing dark shadows over the Islamic world, cultural expression can send out positive signals, the festival's artistic director said.
"It's more than urgent to give more room to express culture and art," Brahim El Mazned said.
Appropriately Ahidous Tighassaline, a very celebrated and traditional Berber dance troupe, opened the festival.
But soon came a more modern mix in the form of Inouraz, or "hope" in Berber, a Moroccan band of four musicians which had joined up with a Norwegian bassist, Steinar Rankes, who is one of Norway's emerging jazz musicians.
Rankes has played with such international stars as Chick Corea and Bobby McFerrin.
Another crowd puller was the Algerian band Sidi Bémol, led by Hocine Boukella, which crosses over traditional music like Gnaoua and Châabi and popular music styles such as Rock and Blues.
Side Bemol's open-minded approach has brought the band international success – their multi-cultural cross- rock has millions of fans across Europe and the Maghreb region. Their last album is called "Âfya", a Berber term suggestive of serenity, peace, elevation and light.
"The Arab world has been scary for a long time. I think it's an irrational fear because it's not necessary to be like this. But it's true that it's our role as artists, as it is for many other people too, to demystify this fear," Hocine Boukella said.
Based in Casablanca, the band Hoba Hoba Spirit mixes Rock, Reggae and Gnaoua and has become one of Morocco's most popular bands, with songs referring to the confusion and disorientation felt by many young Moroccans.
They have a particularly large following at the festival which host hundreds of thousands of visitors to the mostly free concerts each year.
Euronews cultural reporter Wolfgang Spindler: This festival is not only an international platform for the music of the Berber people, it's also a musical pleading for more tolerance