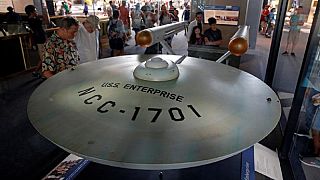 The crew of the USS Enterprise are back for more space adventures in Star Trek Beyond, the latest episode in the film franchise of the popular sci-fi series that marks its 50th anniversary this year.
Chris Pine and Zachary Quinto return as the younger Kirk and Spock, alongside Simon Pegg as Scotty and John Cho as Mr Sulu.
The release has been overshadowed by the tragic death of actor Anton Yelchin who died after he was crushed by his car in Los Angeles.
Director Justin Lin said he was still coming to terms with the loss. "I'm still processing, [it's] still very raw. But I have to say…I had the best experience … everyday he comes on set with a smile, and he reminds me of the right way to do things…comes with passion, comes with ideas."
Quinto, alias Spock, underlined the importance of the Star Trek legacy: "This movie has definitely a retro vibe to it and I feel grateful to celebrate that.
"It's pretty remarkable for something like this to last for half a century and we're all really proud to be a part of it at this significant, celebratory milestone."
The film has stirred headlines ahead of its release after Cho said Sulu is openly gay and married in the new film. Actor George Takei, who portrayed the character in the original series, said the decision was "unfortunate".
Takei, who is gay in real life, said he was "delighted" the movie included a gay character, but the new version of the character does not reflect the original vision of late creator Gene Roddenberry.
But Cho hopes Takei can see the good points: "I hope that if he sees the film and sees the way it's [Sulu's same-sex relationship] treated, which is a very nonchalant posture towards the event of it and it's a really normalised depiction of it, that maybe he'll see some of the positives in time.
"Maybe he'll warm to it and realise that maybe young people are going to see this, young gay people, LGBT people in the closet perhaps and be encouraged by it."
John Cho is Sulu. #StarTrekMoviepic.twitter.com/RWnnT8CVb8

— Star Trek (@StarTrekMovie) 11 July 2016
The movie is the third film in a recent relaunch following 2009's Star Trek and Star Trek Into Darkness in 2013.
The film also stars Zoe Saldana, Idris Elba and Sofia Boutella.
Star Trek Beyond begins rolling out in cinemas worldwide from July 20.
Don't miss the new trailer for Star Trek Beyond feat. Rihanna</a>&#39;s new song, "Sledgehammer." In theatres July 22.<a href="https://t.co/WSBY1Khf69">https://t.co/WSBY1Khf69</a></p>&mdash; Star Trek (StarTrekMovie) 27 June 2016