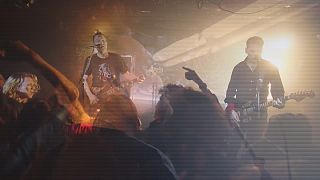 American pop punk-trio Blink-182 stormed to the No1 spot in the UK and US album charts with their comeback album California.
The album was written over a short period of time and the lead single "Bored to Death" topped the Alternative Billboard Charts, becoming the band's first number one in more than 12 years.
Blink-182 have done something that Nick Jonas, Radiohead, Red Hot Chili Peppers and Ariana Grande could not do: Knock Drake's album "Views" from atop the Billboard 200 selling 186,000 total copies in its debut week.
Bassists and vocalists Mark Hoppus says they never intended to write an homage to his home state: "We never set out to write a love letter to California.
"But while we were recording it we just kept finding ourselves referencing very specific California things, either bands from California that we grew up listening to or specific, streets or specific cities.
"And as we got near the end for the recording process and we were talking about names 'California' came up and it just seemed to fit because California just has this endless energy and opportunity and hope and ambition but there's also a dark, twisted side beneath it and that's how the record feels."
It marks the first full record the group has recorded without Tom DeLonge, who was replaced by Alkaline Trio member Matt Skiba.
The new-look band took to the studio and wrote 28 songs in six weeks.
With the changes nobody was sure what the new sound would be.
"This album feels really complete to me," Hoppus adds. "It has everything that I hope that Blink 182 album would be is on this record.
"It has fast songs, it has aggressive songs, it has poppy songs. It has a heartfelt songs on it. When I listen back to it it feels complete and I'm really proud of everything that we put on there."
'California' with its modern styles balanced by classic anthemic choruses and soaring guitars is out now.
Blink 182 is on tour this summer and autumn.