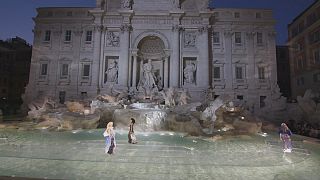 Italian fashion house Fendi sealed its long-lasting bond with Rome by staging a unique Fashion Show at the newly restored Trevi Fountain.
Fendi chose its hometown to celebrate its 90th anniversary with an spectacular catwalk. Models, including the likes of Kim Kardashian's sister Kendall Jenner, marched over a glass runway to present a fur collection entitled 'Legends and Fairytales'.
"This city in terms of lights, colour, art inspiration is unique," explained Fendi Chairman and CEO Pietro Beccari. "I believe that's why Fendi is so keen on keeping its Roman roots which are giving so much energy and inspiration to our creative team."
Karl Lagerfeld included a variety of folkloric touches to his collection. The 46 outfits were inspired by Danish fairytale illustrator Kay Nielsen, who painted colour plates for the book Fairy Tales by Hans Christian Andersen in 1924.
As part of its anniversary celebrations, the fashion giant is also hosting a retrospective exhibition at the company's new headquarters at the Palazzo della Civiltà Italiana.
"Everything I see in this exhibition reminds me of something specific," said Silvia Venturini Fendi. It means a lot to me because it is part of my family history. I know Karl Lagerfeld is someone who doesn't like to look back so I say that anniversaries are a good excuse to start new chapters."
The retrospective exhibition runs until October 29.