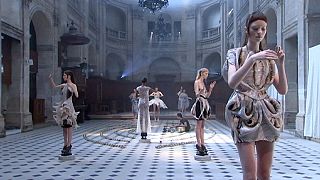 Perched on 10 inch Getas, the traditional Chinese-Japanese raised flipflop, models stood on stone discs to showcase Iris van Herpen's new Haute Couture Autumn/ Winter collection in Paris.
It's about finding the peace

Fashion Designer
Greeted by the omm-ing sound of Tibetan singing bowls, the Dutch designer took guests on a meditation retreat with her Seijaku collection – inspired by the Japanese word for serenity in the midst of activity.
Van Herpen, who meditates every day, says she is trying to explore cymatics, the study of sound waves made by vibrations and their evolving geometric expressions.
"I do find a lot of meditation within sound, in general. So it's not about sitting down and meditating. It's about finding the peace within the busy-ness of daily life and I really use sound for that," she said.
The ubiquity of high and low frequencies, generated by Japanese artist Kazuya Nagaya, echoing throughout the small Protestant church which hosted the show, contrasted with the eery feel of the collection.
Floating hand-plisséd dresses were made in translucent organza, playing peek-a-boo with openings underneath the chest and above the stomach.
"The way we've been pleating it on the body creates the patterns. The patterns are inspired by the cymatics, by their visualisation of the sounds," she said.
The digitally and technically minded designer also created garments that included thousands of hand-blown glass bubbles or Swarovski water drop crystals covered in transparent silicon that produced a luminescent body.
Van Herpen's work has often been described as sculptural because her clothes look like they could stand by themselves.
Her designs also often interact with the movement of the body, and in this latest innovative collection her clothes manage to interact with sound itself.