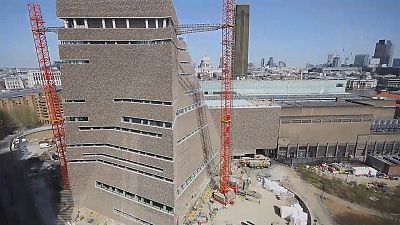 A towering extension has opened at the Tate Modern museum in London.
This is so 'now', this is so 21st century
The newly-opened Switch House building, which cost 260 million pounds (around 330 million euros), is a ten-storey twisted pyramid structure that sits next to the Tate Modern's original building on the banks of the River Thames.
The extension increases the landmark gallery's capacity by 60 percent.
New #TateModern is NOWOPEN! Join us for three days of celebration starting today: https://t.co/qw6RVezLlLpic.twitter.com/Mf4sFDqorl

— Tate (@Tate) June 17, 2016
The Tate Modern, which opened in 2000, is one of the most popular contemporary art museums in the world.
Architects Herzog and de Meuron designed the original museum, which was installed inside the former Bankside Power Station.
They also designed the extension.
"It's very inspired by history. It's an industrial site that was transformed, but it's also radically new. So I think that's very important, this combination of different things," explained Jacques Herzog.
Herzog & de Meuron's sharp-angled Tate</a> extension, which features perforated brickwork and concrete surfaces <a href="https://t.co/IRlwPOrgIz">pic.twitter.com/IRlwPOrgIz</a></p>&mdash; Wallpaper*CityGuides (wallpaperguides) June 15, 2016
The Tate's vision for Switch House is to redefine the museum experience for the 21st century – integrating learning, display and social functions.
"We try to mix the familiar and the unfamiliar. We try to show that artists don't just think about their own generation or even about the previous generation," said Tate director Sir Nicholas Serota.
Touring the new space, art critic Estelle Lovatt was impressed.
"This is so 'now', this is so 21st century. This is how museums hopefully will be from now on. It's interactive, it's engaging, it's impulsive, it makes you want to walk around and engage with the art.
"And that very rarely happens, especially when a lot of people are even intimidated to go in art gallery. This is going to change that."
One of the key purposes of the extension is to show more work from non-European artists and also more pieces by female artists.
An exhibition of work by Louise Bourgeois – whose huge spider sculpture welcomed the first Tate Modern visitors when it opened in 2000 – is among the pieces currently on show.
'I want to do the things and express my rage by breaking it' #LouiseBourgeois. See her work at the new #TateModernpic.twitter.com/1X6g5n3rwG

— Tate (@Tate) June 15, 2016