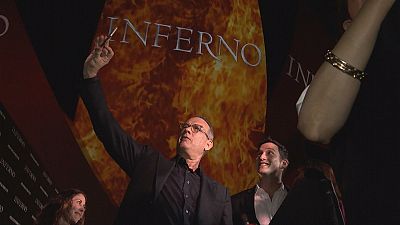 'Inferno' is the third collaboration of film director Ron Howard and actor Tom Hanks for a screen adaptation of a Dan Brown thriller, following 'Angels & Demons' and 'The Da Vinci Code'. Hanks reprises his role as Robert Langdon, a Harvard University professor of religious iconology and symbology.
I think this movie feels a little edgier....I think that builds suspense. I think it builds more drama

Film director
The world premiere is set for October 8th in Florence, Italy.
Three years ago, Sony marked it down for release in December 2015, but that clashed with the curtain-raiser of Star Wars: The Force Awakens, so it was moved back almost a year.
The movie is on a promotion tour and was shown in Singapore. Howard says Inferno is different from the previous Dan Brown films: "I think that it has a more contemporary, edgier kind of feel. Even Hans Zimmer's score is more contemporary. And so in some way I think this movie feels a little edgier, a little more immediate to audiences. I think that builds suspense. I think it builds more drama."
Filming began in April last year in Venice and continued in Florence. Outdoor scenes featuring Hanks were filmed near the Palazzo Vecchio and other historic sites. Hanks was duly impressed with the locations: "One of the special things about making this movie is we get to go to extraordinary places and to utilise them for what they are; they are not just backgrounds. That ends up being one of the great added bonuses, besides just having a job," he said.
DANBROWNINFERNOINTERVIEWBBCWORLDNEWShttps://t.co/0fKUS4u4WS via YouTube</a></p>&mdash; (((Ariadne38))) (Ariadne38) 13 juin 2016
The story centres on the "Divine Comedy", the masterpiece by Italian poet, Dante. The plot begins to unfold in Italy and sees Hanks' character follow a trail of clues about the poet in a race to foil a deadly plot. This time he is joined by doctor Sienna Brooks, played by British actress Felicity Jones, supported by a richly talented international cast.