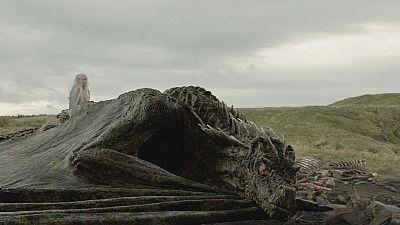 'Game of Thrones' has been a runaway success for cable network HBO since its first season in 2011 but who breathes life into the series' iconic dragons? Arguably one of the most talked about programs on television in recent years, 'Game of Thrones' owes much of its success to Pixomondo, an international creative design and visual effects studio with offices located throughout Europe, America and China.
"We didn't think that 'Game of Thrones' would be as successful as it has been when we started working on it," explains Chief Operating Officer for the Frankfurt studio Sabrina Gerhardt. "And now we have three Emmys here in Frankfurt, so we can say that we have been successful. The cooperation with the HBO producers has been really good – it is very important for animations that you get along well and you understand what the customer wants. It works really well."
Pixomondo, which employs over 400 people worldwide, won the Academy Award for Best Visual Effects for its work on the film 'Hugo' in 2012.
Sven Martin is Visual effects supervisor in the Frankfurt studio for the "Game of Thrones" series. In the past, he has worked for movies like "Super 8", "Iron Man II", "Star Trek". For the dragon animation, his goal is to make it as realistic as possible.
"The first thing we do is a lot of research: we look at real animals that are similar to dragons, because we want the series to be very realistic," says Sven Martin. "We build the dragon from inside out, meaning that first we build a skeleton and then we put the muscles and the skin on top of that. And the whole thing is then animated. We look for real examples when we are making the skin – crocodiles, bats, all the animals that have some similarity to a dragon have gone into our dragon."
It is a long-winded process, from crafting a model to putting the finishing touches to the animated sequences but its worth pushing the boundaries. In 2015, 'Game of Thrones' set a record for winning the most number of Emmy Awards for a series in a single year, with 12 wins out of 24 nominations.
#GoT is an around the clock job for @Pixomondo...& other takeaways from our NAB guests https://t.co/APVHwCYzUfpic.twitter.com/hYxZhjEeaL

— Autodesk Maya (@AdskMaya) May 4, 2016