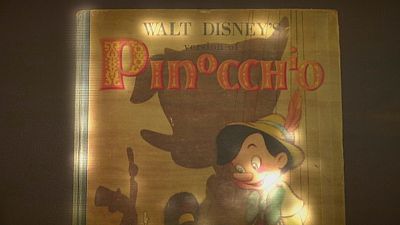 Pinocchio is one of our best-loved fairy tales, and now Walt Disney is ensuring its incarnation of the wooden hero gets a never-before-seen exhibition at the mighty mouse's Family Museum .
You'll see remarkable works of art that have sustained the test of time. They're approaching eighty years old
Produced at the end of the Depression, the feature-length "Pinocchio" was considered a masterpiece when it opened in 1940, becoming the first animated feature to win an Academy Award.
In the decade from the mid-1930s, besides "Snow White" and "Pinocchio," the Walt Disney Studios also created "Fantasia" (1940), "Dumbo" (1941), and "Bambi" (1942). These and all Disney films as well as Disney's life and career are documented in detail at the museum.
Objects in the show include original hand-drawn artwork, character model sheets, cels, maquettes, paintings, conceptual artwork, artifacts, flipbooks, and film clips.
"It's a pretty spectacular story. In 1940 the New York Times called Pinocchio the best film that Walt Disney had ever made. So therefore it was the best animation ever created. You'll see remarkable works of art that have sustained the test of time. They're approaching eighty years old," says the Director of Collections Michael Labrie.
The comprehensive exhibit allows visitors to discover the artistic process and step behind the scenes to explore how one of the most influential animated films in history was produced.
The show will contain more than 300 objects, from original hand-drawn artwork to three dimensional models, and showcases the intricate, labor-intensive process of traditional pre-digital animation.
"The whale is actually a statue made out of plasticine, which is a non-drying clay. It was used by the animators when they were creating and doing character development for the drawings. The animators actually used the sculptures to move around and get different angles as they studied the characters," says Art Conservator Tonja Morris.
The story of a puppet turning into a real boy whose nose grows when he tells a lie continues to resonate with children of all ages today.
There are a dozen films and TV series about Carlo Collodi's 19th century Italian creation beyond Disney's, including Italian and Korean versions.
"Wish Upon a Star: The Art of Pinocchio" opens in May and runs through January at the Disney Family Museum in San Francisco