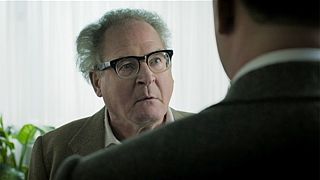 Little is known about the hunt for Nazi criminal Adolph Eichman. Most people have heard about his abduction by Mossad in Argentina in 1960, his trial in Israel and his hanging. But what many do not know is that the man responsible for the logistics behind the Final Solution was identified and arrested thanks to the perseverance of a German prosecutor.
'The People vs. Fritz Bauer' masterfully lifts the veil on this relatively unknown period in German history.
How could Jews live in a post-war Germany whose administration was still massively run by former Nazis?
Lars Kraume's film poses the question. And the character of Fritz Bauer brings an answer, with a exceptional performance by Burghart Klaussner, in the role of the prosecutor who backs down before nothing, especially resistance from the very judiciary he works for.
His dream was for Eichmann to be tried in Germany. Not out of vengeance but to force his country -too busy rebuilding and concentrating on its economic miracle – to face its past.
In the end, the whole world came to see that absolute barbarity could take on the banal face of the most insignificant and ordinary-looking man.
Enjoy the movie, have a good week.