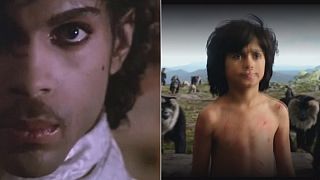 And now a round-up of the latest from the world of cinema.
Following news of Prince's death, theatres across the US are screening the 1984 movie that catapulted him to stardom.
'Purple Rain', starring the late pop star, earned Prince an Academy Award for Best Original Song Score. The album of the same name also produced two No. 1 singles – 'When Doves Cry' and 'Let's Go Crazy' – and went platinum 13 times over.
The screening of 'Purple Rain' was one of the many tributes paid to the legendary musician found dead at his Minneapolis studio on April 21.
Disney's reboot of its 1967 'The Jungle Book' is still top of the global box office in its second week, and looks set to become one of the biggest hits of the year.
Directed by Jon Favreau, the live action/CGI hybrid brings to life Rudyard Kipling's classic story about Mowgli, the man cub raised by wolves in the jungle, and features a star-studded voice cast including Scarlett Johansson, Bill Murray and Idris Elba.
In contrast, 'The Jungle Book''s main competition, Universal's 'Huntsman: Winter's War', was left in the dust, earning just $20 million over the weekend, despite a stellar cast including Chris Hemsworth, Jessica Chastain, Charlize Theron and Emily Blunt.
A prequel to 2012's 'Snow White and the Huntsman', the film has not been well received by critics and it looks like it could be faring equally poorly with the public.