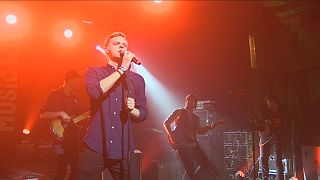 It has been a whirlwind 12-months for 21-year-old Jüri Pootsmann. He won Estonian Idol in 2015, landing him a record deal with Universal Music, his status as Estonia's new superstar was cemented after being voted Best Male Act at the 2015 Estonian Music Awards. Now he's on his way to Stockholm for the Eurovision Song Contest his song 'Play' is in the mix for Estonia.
On palju luuletustes helisevaid öid #JüriPootsmann#ArmastuseLaulpic.twitter.com/5cXpHTkrYn

— iLmps (@ilmpss) 14 April 2016
We hooked up Jüri with his band at the recent Tallinn Music Week: "It all started with the Estonian Idol when I won it last year. So after that everything kind of went in a really fast tempo, pretty hectic. It's very easy to lose your head there. But I've been on the track, so it's all good right now. Now the Eurovision came. And it's even crazier. So I'm really enjoying it."
Eurovision in concert | Jüri Pootsmann sahne'de. #estoniapic.twitter.com/FaIa0BByh6

— Eurovision 2016 (@Eurovisn_Turkey) 9 April 2016
For the self-confessed Eurovision fan it was a dream come true. But being on stage wasn't that easy for Jüri who is a shy by nature: "I have been a choir singer ever since I was a little boy. So actually I started singing solo like 2 or 3 years ago. So I'm quite new to it. But I'm learning and I'm taking everything I can from each experience, each concert."
Jüri Pootsmann pic.twitter.com/qfR79IJ5OV

— young L (@hellahadid) 8 April 2016
"Play" has a brassy, retro vibe that goes works with his voice. It was written especially for him by successful Estonian songwriter Stig Rästa.
Jüri Pootsmann – Play – Single [iTunes Plus AAC M4A] (2016) https://t.co/1EZz3TAw0Kpic.twitter.com/ASmsV04Yb3

— iTune5 Music (@iTune5Music) 14 April 2016
So what's next for Jüri and his recently formed band: "I dont' have any kind of goals, but it would be really nice to be in the final. But we will see about that. The most important thing is the experience. And then after Eurovision, I think that we are going to start preparing a second album. Then we will see what is going to happen there, but we will be making music."