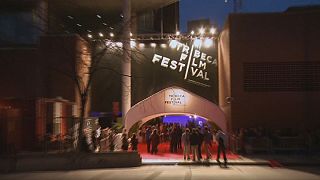 The Tribeca film festival got underway in New York on Wednesday with an array of feature films, documentaries and TV shows.
"Vaxxed", a documentary that asserts vaccines are linked to autism, despite broad scientific consensus to the contrary, was originally due to be screened on the last day of the festival. Co-founder Robert De Niro was faced with the decision as to whether he should pull the controversial movie event.
"I was surprised to hear that certain people were against it," explained the American actor. "I felt it was something to be seen but not if it was going to affect the quality of the festival."
The 12-day event will open with the world premiere screening of "The First Monday in May," Andrew Rossi's documentary about the Metropolitan Museum of Art's attention-grabbing Costume Institute exhibition entitled "China: Through the Looking Glass."
Two former classmates of convicted marathon bomber Dzhohkhar Tsarnaev from Cambridge Rindge and Latin School are premiering their student film, "Jahar."
The 12-minute film seeks to capture the range of emotions they felt after learning the 19-year-old had played a major role in an attack that killed three people and injured more than 260 in Boston three years ago.
Tom Hanks will also take part in this year's gathering as the Oscar-winning actor will be world-premiering his latest film, "A Hologram for the King." The 59-year-old plays a desperate American salesman waiting an eternity to meet a Saudi Arabian billionaire.
Tom Hanks makes a serious splash with A Hologram For The King! In select cities April 22. pic.twitter.com/rimxEI5x0w

— eOne Films (@eOnefilms) April 9, 2016