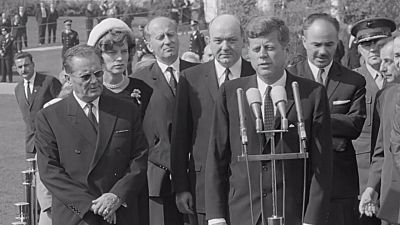 The cold war, the space race, and NASA's moon landing. They were all landmark events that defined an era.
Docu-fiction "Houston, We Have a Problem!" explores talk of a secret multi-million-dollar deal behind a US purchase of Yugoslavia's clandestine space programme in the 1960s.
"What people will see in the film is more the human side of those presidents, the US presidents and the Yugoslav president which was of course just one, Tito, because we really tried to make human-beings out of them, the real characters with ups and downs in the film. Not just some historical characters who are just somewhere there," explained Zga Virc, the film's director.
After World War Two, the moon race was was high up on the agenda for super powers such as America and the USSR.
"The whole film is sort of a symbolic story of Yugoslavia, the rise after the Second World War and the fall which started in 1991 and I think that it is something that is quite interesting on a general level for a general audience," said Virc.
There is new archive footage and testimonies in the film, which is a mix of reality and fiction – taking a look at history through conspiracy theories.
"We walk on this thin line between reality and fiction and hopefully people will take a critical stands (point of view) and start thinking not just in our film but in everyday media what they do believe in and what they should not believe in and what should they critical about," commented Virc.
"Houston, We Have a Problem" is a co-production involving Slovenia, Croatia, Germany, the Czech Republic and Qatar.
It is also HBO Europe's first production in the Adriatic region.
The world premiere's at New York's Tribeca Film Festival and there will be European premieres in Ljubljana, Slovenia, on 25 April and in Zagreb, Croatia, on 26 April.