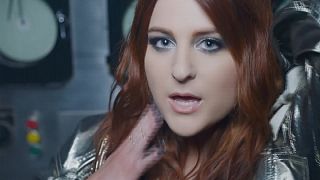 She's back and bubblier than ever. Meghan Trainor has a follow-up album to 2015's smash "Title". It's called "Thank you", and Trainor hopes it will cement her Grammy-winning success as Best New Artist.
Oh crap, now I need four more just as good, if not better to follow this
"No" is the album's first single.
"It was such a relief, like I could sleep at night knowing I finally found the single. That's like the biggest stress for an artist, especially album No. 2. Like the first time I did 'Bass,' how am I going to come back with something big? So it was definitely like ah, but it also like, 'Oh crap, now I need four more just as good, if not better to follow this," says Trainor on the perils of making the right choice.
Trainor's breakthrough was based on the irresistible pop chops of first single "All About That Bass" which sold 11 million units worldwide on its own, becoming the fourth best-selling song of 2014 and one of the best-selling singles of all time.
It is also a stealth call to arms against body fascism, not a bad trick for a little popsong to pull off.
"I noticed with 'Bass,' it was a girl anthem. It was a big anthem for everyone, but it was also a big feminine girl anthem. And I noticed coming around on the second album I wrote a lot of those. I literally have a song called 'Woman Up,' and it's like when you get dumped, you go out and woman up. You got this," she says.
"No" is harder-edged and club-aimed, and as a taster for the May album release, suggests "Thank you" may do the business, too. Preorder it here.