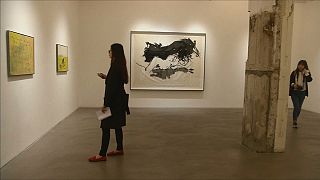 "I Cried Because I Love You" is the title of British artist Tracey Emin's exhibition in Hong Kong. Once the "enfant terrible" of the Young British Artists in the 1990s, she is known for her autobiographical and confessional content.
The only thing that art should really do which is unusual is make people stand still and be quiet
Indeed, for her early installations you would have needed a very big house, or at least a very untidy one, to exhibit them. Key works from this period went up in smoke in the great Saatchi collection fire.
Emin produces work in a variety of media including drawing, painting, sculpture, film, photography, neon text and sewn appliqué.
Now in her early fifties, the inspiration for the title of this exhibition comes from an old watercolour she found in her studio in France.
"I think everybody's loved someone so much that it hurts," she says. "You just feel like if you don't see them you'll implode. Like it will kill you if you don't see them. It's more about that feeling, that feeling of love. And understanding love. But it's not unrequited love. It's an impossible love and that's what I am talking about."
These works, her first solo Chinese show, come from a period of self-examination in the artist's life. They address the pain of loneliness, the complexity of desire, and the bitterness of separation and loss.
Emin has often been described as a modern day autobiographical expressionist.
"I see it as being a compliment. Because art history and painting, there is very little you can do anymore in terms of painting, apart from really, really have this conviction and personal connection yourself."
International popstars Elton John and George Michael are both collectors of Emin's work. Other celebrities and musicians who support Emin's art include models Jerry Hall and Naomi Campbell, and film star Orlando Bloom.
Emin's precociously high early profile has rarely dipped over the years. Critics might say because of her relentless self-promotion. Emin says her honesty does not go down well in all areas of the art world.
"I don't think it becomes easier, I think it becomes harder. And I don't like being, being an artist and being well known and being recognised is not good. It's not good for my career. I'm not taken seriously, I never have been taken seriously on certain echelons of the art world because I'm like this. Because art should still have this mystery. Art should still be on this ivory tower. But I obviously don't think that or believe that. I think art should be for everyone and be accessible for everyone. The only thing that art should really do which is unusual is make people stand still and be quiet," she insists.
The exhibition "I Cried Because I Love You" by British artist Tracey Emin can be seen 
at the Lehmann Maupin and White Cube Galleries in Hong Kong until May 21.