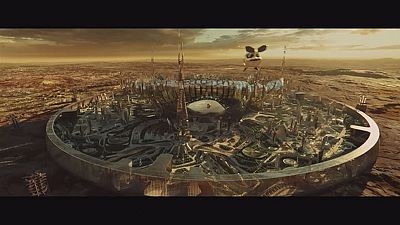 'The Divergent Series: Allegiant', the third instalment in the sci-fi adventure franchise, is on worldwide release.
Young heroes Tris and Four, played by Shailene Woodley and Theo James, venture beyond the wall of their city – and into a new world, more dangerous that anything they have experienced before.
"It's a kind of strange world you live in if you're doing a franchise that comes out every year because you get to kind of chart your own and other people's changes and evolution. And, you know, normally you wouldn't see that in a way because you don't come back to something every year and you don't also do press every year and get to reflect on it," said James.
Woodley revealed how some of the magic of the on-screen action was created, saying: "We're really fortunate to get to do a lot of our own stunts, most of our own stunts. The challenging part is always the running, I don't like running."
"The least challenging part was the wall scene, which looks really difficult and intricate when you're watching in the film. But really all we did was hang there and move our arms and legs to match the stunt rigging."
Alongside James and Woodley, the film also stars Jeff Daniels, Octavia Spencer, Ray Stevenson, and Naomi Watts.
'Allegiant' is out in cinemas across Europe this month, opening in the UK on 18 March.
The final film in the Divergent series, 'Ascendant', is expected to be released in June 2017.