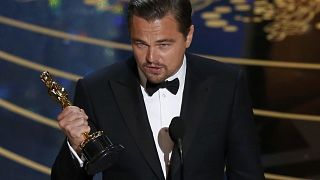 What happened at the 88th Academy Awards…
Mad Max: Fury Road is the night's big winner, taking home six Oscars.
The Revenant wins three Oscars.
Leonardo DiCaprio finally won his first Academy Award, after losing out on four previous nominations. He was awarded Best Actor in a Leading Role for his part in The Revenant.
Spotlight takes home two awards.
Oscar-díjátadó 2016:Néhány fotó a vörös szőnyeges bevonulásról és a gáláról.(fotók: REUTERS)

Közzétette: euronews – 2016. február 28.
The other Oscars awarded were distributed evenly among other nominees.