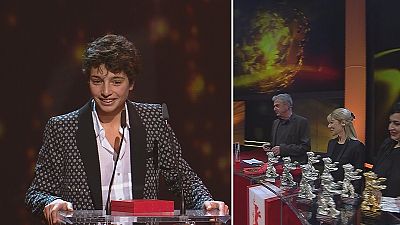 One of the world's major cinema festivals, the Berlinale is not just about glitz and glamour but is also a chance for first time directors to make their mark.
Young Portuguese director Leonor Teles won the Golden Bear for Best Short Film for 'Balada de um Batráquio', her graduation short movie, which has already picked up several awards at festivals around the world.
"I don't know what to say, I was not expecting this. I would like to thank the jury, the festival and of course my team. I was not expecting such a silly movie to win," she said in her acceptance speech.
Based on a Portuguese saying that claims gypsies are afraid of frogs, the short film is a criticism of anti-Roma sentiment in Portugal and includes an artistic performance by the director herself destroying statues of frogs.
The runner-up in the Short Film section was 'A Man Returned' by Mahdi Fleifel, a short documentary about the battle of a Palestinian refugee trying to reach Europe.
"This last week, I have been asked a great deal why I only make films about refugees. And my answer has been, 'Because I am one'," said Fleifel as he picked up his award.
Himself a Palestinian refugee who came to Europe at the age of nine, Fleifel tells of the struggles of Reda, a Palestinian who leaves a refugee camp in Lebanon but finally returns after ending up on the streets of Athens, where he becomes a heroin addict.
And it was another film dealing with the very contemporary plight of refugees that won the Audi Short Film Award, handed out as part of the Berlinale Shorts section.
'Anchorage Prohibited' by Singapore-born director Chiang Wei Liang tells the story of a Vietnamese couple who emigrate to Taiwan with their baby to find work. Without any means to settle down, they take refuge on an island.