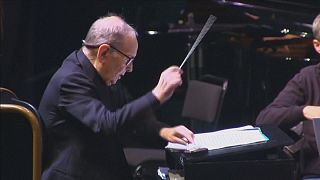 Make that six BAFTAs for maestro Ennio Morricone, the Italian composer adding another award to his groaning shelf at home, and when he was in London for his "60 Years of Music" tour.
The trophy was brought to him onstage, as he was performing on the night of the awards ceremony. Nothing stops the music.
Morricone, 87, won the price for his score for Quentin Tarrantino's "The Hateful Eight".
The score has already won the Golden Globe and is Oscar-nominated, his sixth. Morricone won an Honorary Academy Award in 2007, but never one in open competition.
"I am going to Los Angeles without expectations because already there have been five, six times, five times when I didn't win. I hope that this time there will be an Oscar victory, but I am not certain at all so I am going there tranquil, serene, hopeful that it goes well," he says on his chances.
Morricone shot to fame through his collaboration with Italian director Sergio Leone for westerns such as "The Good, The Bad and The Ugly" and "Once Upon a Time in the West".
He has scored more than 450 films in his career, so much music he is often asked if he follows a set procedure when composing.
"You would like to know the mysteries of creativity, of my work? It is difficult to explain it because sometimes all you need is an idea that once developed becomes something. Sometimes, there is no idea at all, one looks for something and at the moment I least expect it, it comes to me," he admits.
Morricone's haunting themes and stirring crescendos have been linked to many iconic movies and stars. Such is his reputation that fans came to the London concert from far and wide. Paulo came from Sardinia.
"You can't dislike any piece, the maestro is a great composer."
"I think his music is more than film music, it's another level really," said English fan Nicol.
Morricone's "60 years of music" tour next performs in Cologne, Antwerp, Amsterdam and Wroclaw before heading off to Moscow and Helsinki next month and then Paris in May.
And maybe via Hollywood for that Oscar on February 28th…
ENNIOMORRICONE – THE 60 YEARS OF MUSICWORLDTOUR
The World Tour premiered in Prague on the 15 January 2016. Prague is home to Morricone's beloved Czech National Symphony Orchestra, which accompanied the Maestro on his previous international tours and which recorded with him for many major international motion pictures including the 2013 release of The Best Offer by Giuseppe Tornatore, for which Ennio Morricone received the European Film Award in the category "Best Composer". As with previous tours, the production will feature over 200 musicians and singers on stage.
Ennio Morricone won his sixth Bafta for the score of the film The Hateful Eight. His previous Baftas were for Cinema Paradiso (1991) with his son Andrea, for The Untouchables (1988), for The Mission (1987), for Once Upon a Time in America (1985), and for Days of Heaven (1980).
Tour Dates
18 February – Lanxess arena Cologne, Germany
20 February – Sportpaleis Antwerp, Belgium
21 February – Ziggo Dome Amsterdam, Netherlands
23 February – Hala Stulecia Wroclaw, Poland
21 March – Crocus City Hall Moscow, Russia
23 March – Hartwall Arena Helsinki, Finland
27 May – Palais des congres Paris, France
28 May – Palais des congres Paris, France