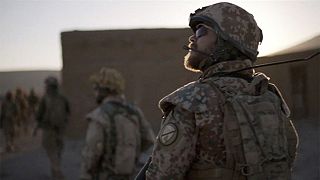 The story is familiar. A contingent of soldiers is dispatched to the Afghan dust. This time they are Danish.
Their mission is simple, at least on paper: to help the Afghans rebuild their country.
On the ground it is otherwise, as in all conflicts where the enemy is scattered, often not visible, but present, with ambushes and IEDs.
Danish film Krigen, "A War", immerses us in the trials and tribulations of Captain Pedersen, played by Danish actor Pilou Asbæk (Piloo Asbeek).
An order is given to bomb an area so Danish soldiers, caught in an ambush, can get through. Women and children are found in the ruins.
The remainder of the film takes place in Denmark where the Captain is on trial for decisions he made in the heat of the action.
In Krigen, once again what we encounter is the brutality of war. A war already forgotten.
The film has been nominated for an Oscar in the category of 'Best Foreign Language Film'.
Distributor: Nordisk Film Distribution