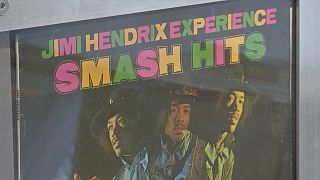 The former apartment of rock guitarist, singer and songwriter Jimi Hendrix opens to the public in central London.
Restored to its multicolored 1960s glory, it forms part of Handel and Hendrix, a museum devoted to two innovative musicians who were neighbors, two centuries apart.
Hendrix is said to have kept the flat looking relatively tidy but that doesn't mean there weren't raucous parties too, according to Dr Christian Lloyd, Professor and Academic Director at The Bader International Study Center, Queen's University.
"One of the great advantages of living here was that there were no neighbors, it wasn't really a residential street at that time, so you could play music as loud as you liked and they did.
"I think it was the kind of place where, after they'd been to 'The Speakeasy' – one of the music clubs just five or ten minutes' walk away, they'd come back here later and hang out and so on. So yeah, Jimi was 25 when he was here, so they had some fun, yeah."
The bedroom where Hendrix spent most of his time has been carefully restored. and includes old records on a gramophone, photographs and an acoustic guitar lies nearby.
"That guitar was always leaned up against the bed there. It was always within hand's reach, he composed many of his most famous songs on that guitar, not on an electric guitar actually. And she said he'd play and play and play, people think of Hendrix as a genius, he's also someone who worked really, really hard on his music," Dr. Christian Lloyd adds.
Seattle-born Hendrix had relocated to London in 1966 after being spotted by producer Chas Chandler playing in a New York bar.
He formed his band the Jimi Hendrix Experience, released the acclaimed album "Are You Experienced?" and toured extensively, gaining fame for his innovative, heavily distorted guitar style.
Despite being described by the Rock and Roll Hall of Fame as arguably the greatest instrumentalist in the history of rock music, Hendrix died of a drug overdose in London in 1970, aged 27.