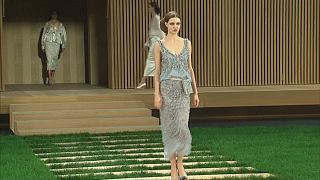 Wood, zen and serenity was on show at Pairs Fashion Week inspired by Karl Lagerfeld for Chanel.
The designer went back to nature for his new haute couture collection at Paris Grand Palais.
In the past he turned the venue into an airport, supermarket and brasserie. This time he sent models out of a wooden house and down a garden path amid a neatly manicured lawn.
The starting point for this exhibition was 'the silhouette', said the designer. He puffed up sleeves into oval shapes on Chanel's signature tweed jackets, pairing them with slim pencil skirts.
"It was my dream to have a house like this but you don't get permission in France to build a house like this. And all those beige dresses look very well, you must not forget that in the twenties, before she made the little black dress, Chanel was called the queen of beige. And I never made a Chanel collection nearly all beige and I am doing that for 33 years," he explained.
French fashion designer Stephane Rolland presented his new collection in an old-school-style show at his atelier on Avenue George V.
Seventeen numbered models walked one by one in a typically Parisian salon.
Rolland said he was inspired by the ballet and also by lightness and positivity. The models were particularly statuesque, dressed in dramatic floor length silk gowns. Some dresses were soft and fluid – others were three-dimensional and structured.
Pleats were a major theme and organza was used to make oversized "sculptures" attached to the body. Sparkling jewelry was turned into bows, belts and straps.
Alexandre Vauthier presented his Haute Couture Spring 2016 collection at the Musee des Arts Decoratifs.
Some models strutted down the runway wearing sexy, uniform-like looks, often with gold-framed glasses. Vauthier said he found his inspiration in a specific type of French school uniform.
There were also several looks in black, some in delicate lace, others in similar transparent materials.
Many of the looks were accessorized with thigh high black leather boots with crisscross laces on the back.