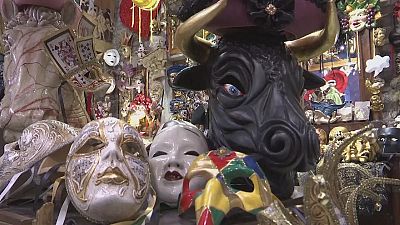 It's carnival time in Venice. In the streets and squares of the canal city people parade in elaborate masks and spectacular costumes.
This year Carnival is celebrating the army of mask makers, tailors, weavers and glass blowers who are helping recreate the magic and colour of 18th century Venice.
Images of the craftsmen at work will be projected on to big screens in St. Mark's Square and actors will recreate artisans' activities from 18th century workshops.
For 35 years master mask maker Gualtiero Dall'Osto has been pursuing his craft.
"The mask is inside a person, is inside his capability to look inside himself, to find himself, and Carnival is the chance, the time when this is freely allowed, so we have to keep on recovering this space as best we can, because it is the space of creativity in which we allow ourselves to look inside and find our inner masks," he explained.
Francesco Briggi is a tailor who works for the Pietro Longhi atelier one of the most famous craft houses in Venice.
Costumes from the 18 century and the Renaissance, which start at around 3,000 euros and have no price limit are the most popular. Some customers want them made from original fabric.
"It takes almost a month to create a costume. If a person suddenly decides to come to Carnival for 10 days then it's not possible to do anything at such short notice. We have many clients, loyal Carnival goers, who are already thinking about the next Carnival at the end of this one and we will meet during the year to be able to realise what they want," said the tailor.
Of course it is possible to hire a costume – at a price- around 200/250 euros per day; and then you can save the tailored one for the Mardi Gras Ball on the last night. Venice Carnival runs until February 9.