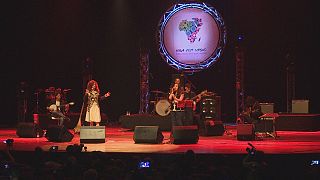 Dos Medinas Blancas is the combination of two extraordinary voices.
Carmen París is best known for her interpretation of traditional Flamenco-style Jota music from the Aragon region as well as her Jazz and Andalusian repertoire.
Twenty-eight year-old Nabyla Maan, from the Moroccan city of Fès, recorded her first song when she was just six years old.
Euronews met the pair, who are working on an album together, at the Visa for Music fair in Rabat:
"The connection was there right from the start, there was this magic between her voice and mine and that's something that does not happen very often so when it does, you have to make the most of it," explained Carmen París euronews cultural correspondent, Wolfgang Spindler.
"Our album includes songs from both our repertoires, so the idea is really to bring our styles together, as well as our musicians' styles, because each musician has their own style, so we wanted to mix it all together," said Nabyla Maan.
The duo have recruited musicians from Spain and Morocco, including emerging talents Mahmoud Chouki and Tarik Hilal, as well as Peter Oteo, one of the most popular bass guitar players in Spain and drummer Borja Barrueta.
"Spanish folk music is influenced by Arabic music. Her singing is much softer and sweeter, more ethereal than mine, which comes from the Jota, a very arid landscape. The strength of the Aragon Jota mixes very well with Nabyla's soft style. The result is a combination of strength and softness," Carmen París told euronews.
Final editing is underway on the album by Moroccan-Spanish duo Carmen París and Nabyla Maan, which is due out this spring.