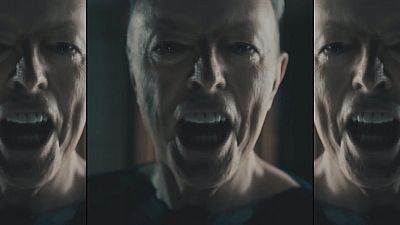 The death of British music legend David Bowie comes just days after the release of his latest album, Blackstar to coincide with his birthday on January 8.
Lazarus is the first single of the album which features just seven songs. The album is suitably otherwordly and intriguing, befitting an elusive pop star who rarely gave interviews, and whose scant public pronouncements were treated as major events.
Bowie is considered one of the most influential musicians of the all time. Stretching rock music's boundaries in the 70's with hits like 'Space Oddity', 'Changes' and 'Suffragette City', he sold some 140 million albums worldwide.
One of the first artists to go online, he has a thriving web community.
Inducted into the Rock and Roll Hall of Fame in 1996, he received a Grammy Lifetime Achievement Award in 2006.
The iconic British singer-songwriter is currently the subject of a touring exhibition featuring hundreds of items including handwritten lyrics, costumes, photos, set designs and rare performance material from the past five decades.
The show demonstrates how Bowie's work has both influenced and been influenced by wider movements in art, design, theatre and contemporary culture and focuses on his creative processes, shifting style and collaboration with other artists. After London and Paris, the Bowie exhibition is currently running at the Groninger Museum in the Netherlands.